We are thrilled to share with you a number of articles that show how the workforce has changed over Her Majesty the Queen's 70-year reign.
Summer of 1969 by AHCS Chairman
A (very) potted history of Medical Illustration over the last 75 years by IMI
Reconstructive Science by IMPT
Advances in Visual Electrophysiology under Her Majesty's Reign by Richard Haggan
Healthcare Science workforce and equipment era by Bamidele Farinre
My career in Healthcare Science through the decades
Institute of Biomedical Science during the Queen's reign
Microbiology advances timeline from the 1950s to the present day
70 Years of Healthcare Science fit for a Queen!
Thank you to The Institute of Physics and Engineering in Medicine (

IPEM

) for sharing this historic photo.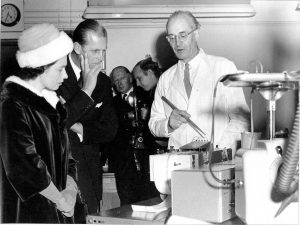 Professor Woolmer visited by Her Majesty the Queen and Prince Philip, 7th November 1962
Prof. Ronald Francis Woolmer being instrumental in creating the Biological Engineering Society (BES) – one of the organisations that amalgamated to eventually become IPEM – in 1960 and serving as its first President.