I thought I wanted to be a Dentist… However at the tender age of 16, I saw an advert for the Trent Regional Health Authority, Medical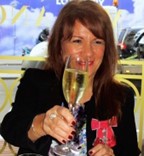 Physics and Physiological Measurement Training Scheme which changed my life.
I was in the first cohort of trainees on this scheme and gained experience in a wide range of Healthcare Science disciplines, from Nuclear Medicine to Cardiac Physiology, Neurophysiology to Anaesthetics, Respiratory Physiology to Clinical Engineering and once qualified, starting in post in the Cardiac Physiology Department at Sheffield Teaching Hospitals.
Dr David Verel, Consultant Cardiologist asked me to contribute to the delivery of the Cardiac Physiology module on the same Training Scheme at Sheffield College. I was well and truly hooked and teaching and training was integral to my working life. I then started a new role, setting up the Oesophageal Function service with a focus on research into Non-Cardiac Chest Pain. I worked with the BSG AGIP Education and Training Committee on developing the BSG, HNC training programme and began lecturing on the GI Physiology modules, initially at Peoples College and Coventry University.  I undertook Further Education qualifications, Supervisory Management and Leadership courses and then an MSc.
I continued lecturing at De Montfort University and then applied my experience to developing the Modernising Scientific Careers GI Physiology curriculum for the new Scientific Training Programme and contributed to the national recruitment.  I became Module Lead for the STP GI Physiology programme at Newcastle University in addition to my day job as Clinical Manager of the GI Physiology Department at Sheffield Teaching Hospitals – a job I loved. I was in the first cohort of applicants that went through the AHCS STPE process and was awarded an MBE in 2014 for Services to Healthcare Sciences, which was a complete and utter surprise and such a huge honour to be put forward by my peers and to this day I still do not know who was behind this.
I could see the staff in the department developing into really dedicated, exciting, professionals, precipitated by them undertaking the STPT and STPE routes. The apprentices were also showing themselves to be outstanding team players within the service, the STP also affected their roles and behaviours in such a positive way.
I have been part of the AHCS since its inception, as a Professional Body member and then as a Non-Executive Director and was awarded an Honorary Fellowship of the AHCS in 2016. I am now fully retired from the NHS and I am lucky enough to work as the STP Equivalence and Programme Lead with a brilliant and dedicated team in AHCS, another job I love.  I continue my CPD and maintain my registration with HCPC, essential when advising potential applicants for STP Equivalence.
Throughout my career I have met some of the kindest, most professional and hardworking people and never have any had any regrets in not becoming a Dentist.
Lynne Smith,

STP

Programme Lead and Equivalence Advisor