The Advancing Healthcare Awards 2022
"The Advancing Healthcare Awards is a unique awards programme which crosses boundaries and fosters partnership working. It is open to Allied health professionals, healthcare scientists and those who work alongside them in support roles".  
On Friday 8th April, the winners for 2022 were announced at the Awards ceremony hosted by Allan Wilson, past President of Institute of Biomedical Science in London.
We were delighted to attend and celebrate all finalists, including the two awards sponsored by the Academy for Healthcare Science.
The Academy for Healthcare Science award for inspiring the Healthcare Science workforce of the future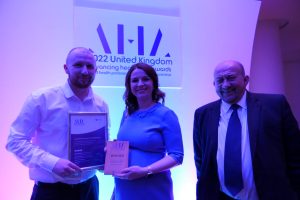 Winners Danny Gaskin and Selma Turkovic with AHCS Chairman, John Stevens
Finalists:
Primary Care Audiology Team, Primary Care Practitioners at Swansea Bay University Health Board
Alastair Watson, Senior Clinical Photographer and Video Lead, and the Clinical Illustration Team at The Royal Wolverhampton NHS Trust
Winners:
Danny Gaskin & Selma Turkovic, Biomedical Scientists & Patient Blood Management Practitioners, Patient Blood Management Team, NHS Blood and Transplant, and Anas Nasir, Biomedical Scientist, Viapath UK
Congratulations!
The Academy for Healthcare Science award for Clinical Research Practitioner Leadership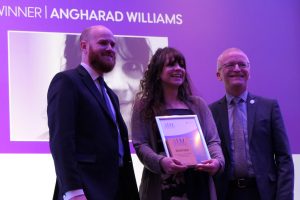 Ifan Jones, Chief Operating Officer of the NIHR Clinical Research Network West of England with Winner Angharad Williams and Allan Wilson
Finalists:
Nicola Phillips, Clinical Research Practitioner at Manchester University NHS Foundation Trust
Sarah Betts, Glen Nishku, and Cherry Paice, Clinical Research Practitioners at Guy's and St Thomas' NHS Foundation Trust
Winner:
Angharad Williams, Clinical Research Practitioner at West Suffolk NHS Foundation Trust
Congratulations!
A full winners' guide and ceremony photos are available on the AHAwards website.
Thank you to all the judges and to Chamberlain Dunn for hosting and organising the event.