Lucy Tinniswood has been a registered member of the Institute of Medical Illustrators (IMI) since completion of the BSc, joining the CAMIP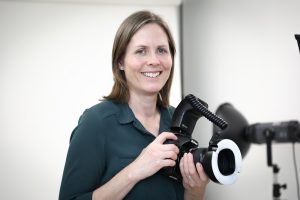 register once qualified, and has been registered with the Academy since the transfer of the register in 2017. She joined the HCS Registration Council in 2020 as a Professional Member.
"I started my career over 25 years ago as a trainee medical photographer at the Royal Bolton Hospital and now find myself as the department manager at Lancashire Teaching Hospitals. 
That journey has seen many changes and developments and there have never been two days the same. When I started everything was solely captured on film and we would have to wait at least 24 hours for a courier to bring back prints to be stuck into patients records and then hand delivered.  Now with fully digital systems, images are expected instantly and if not uploaded within 24 hours will see a phone call from a keen clinician!
We have to be one of the few professions who have the privilege of having access to all areas of a hospital. If not for medical reasons, you will often find one of our photographers or videographers taking PR photographs to celebrate something positive, to promote a new service, or filming for teaching or PR purposes. There are certainly no problems with meeting any step count targets!
The job is ever evolving with new technologies which can be seen in every aspect of the profession. A medical photographer can typically in a day be photographing a retina in the morning, in theatre in the afternoon and move on to recording a teaching video to be viewed by all staff.  The variety found between Trusts can depend on what they specialise in. If a general district hospital, it is just that, general every day ailments, moles, lesions, rashes, pressure sores.  In a more specialist Trust there may be burns, trauma, dental, solely paediatrics, ophthalmology.
Of course, there are times when it is challenging and we get involved in bereavement or non- accidental injury. But as challenging as it is, the knowledge that we have helped someone through a traumatic time is what gets you through.
Covid 19 brought with it a fresh set of challenges for the profession and if anything highlighted the need for good quality images. When staff were unable to see a patient on a ward, the photographers would get into their PPE, take an image and upload for all specialities to see, keeping NHS staff and patients at reduced risk of spreading the virus. New ways of working have been found, apps have been developed, virtual clinics are now becoming a preferred route, and the medical illustration profession has been at the forefront of implementing these; producing the teaching videos and promotional literature to go alongside them for staff and patients, and also running clinics for clinicians to view images at separate sessions helping to speed up the referral process.
Within all these changes, the profession itself has evolved. As a member of the Institute of Medical Illustrators (IMI), I have seen the hard work from the many volunteers that have gone into making this a robust profession with a future.  Registration on the Academy for Healthcare Science's PSA accredited register wouldn't have happened without this. I now find myself having watched these changes, being a part of the future of the profession. I am the CPD and Regulation lead within IMI, and also sit on the AHCS HCS Registration Council.  I believe being registered is vitally important, it shows that a professional has reached an agreed standard, it maintains these standards and ensures patients and their safety are kept at the forefront of everything we do. I would encourage everyone to become registered and get involved in the future of this small, but amazing profession."
Lucy Tinniswood
Apply to join the register today, or get in contact if you have any queries: registration@ahcs.ac.uk / 01455 244640