We are delighted to share a blog from Davinder Gardner.
I'm Davinder, healthcare scientist in medical physics and co-director of the 'Science Saves' programme.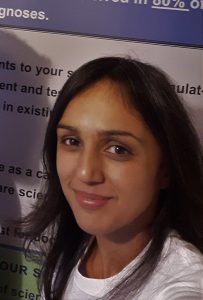 I'll start off and admit I didn't know my profession existed until late into university! I've always enjoyed physics but another driver to study it was obstinacy – to plant myself into a field that seemed to me very white and male. 
A few years later stubbornness was no longer a motivator.  I felt my options were:  go work in the city; teaching (noble – but not for me!) or the lofty goal of academic research.  As much as I loved learning about stars and atoms as a child – I realised I needed something closer to home.
In comes healthcare science – taking the science I love and have learned, and applying it directly for public benefit.  This was an absolute game-changer – the only thing worth doing!
I came close to not studying physics.  I wonder how many people have made a choice to not pursue a subject and then regret it, finding a particular career path closed.
That's why we're doing the 'Science Saves' programme.  We want our future generation to discover healthcare science early and know how to pursue a career in it.  We also want to show students and teachers that there is so much more to our NHS than doctors and nurses.   These aren't the only career paths for someone good at STEM and with a desire to make a difference to the public.
We're doing this via interactive workshops in schools where students can get hands-on with tasks HCS staff do day-to-day to save and improve lives.  If they're inspired, then we signpost them as to where to go next.  We're ensuring that we're working with a variety of schools and that our reach is as diverse as possible.  In the long term we want to see that diversity reflected fully in the HCS field.
Our work is making a difference: with the schools we've visited there has been a greater subsequent interest in healthcare science related subjects.
We had to get creative in the pandemic and we now have a suite of virtual content.  This includes interviews and videos of HCS staff showcasing their work in the hospital setting.  Schools have found these incredibly useful – it can help bring abstract concepts into life and relevance.  For example; a teacher gives lesson on radiation; now they can take that and see how it's used diagnose and treat cancer!
Want to know more? Find us on www.sciencesaves.co.uk and our online content on https://www.youtube.com/channel/UCJNyH-mRnWJqyKecueRZjLg/featured.  You can also follow us on twitter @SciSaves
We want to hear from fellow HCS employees, from apprentices to heads of departments.  Perhaps you'd like to:
Volunteer for some interactive workshops.  Showcase an element of what you do in a school.
Help us create online content.  You can create a video detailing an aspect of your job or agree to be interviewed by us.
If you can help or have any questions, please get in touch at sciencesaves@faithinscience.co.uk