Ruth Thomsen, Scientific Director NHS England (London region) has been named the 'NHS Inspirational Leader of the Year'.  Ruth instigated the Professional Skills in Education & Leadership (PSEL) leadership development programme which over the last 4 years has been delivered nationally to over 200 healthcare scientists by the expert faculty of Anne Benson, Sue Nash, Kathleen O' Sullivan and Kevin Wyke – all led by Dr Sue Fergy.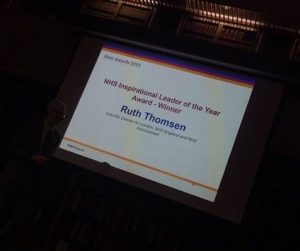 Dr Sue Fergy said  "This is really excellent news for Ruth, Healthcare Scientists and the NHS.  We are so proud to have Ruth as such a fabulous and collaborative colleague who instigated the PSEL programme back in 2015".
Kathleen Sullivan – "It doesn't surprise me one iota. Ruth is a true inspiration and very deserving of the accolade".
Sue Nash – "Congratulations Ruth.  That is so well done and well deserved – we are so proud our faculty leader has achieved this"