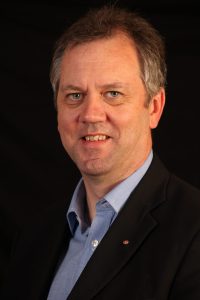 Well, unbelievably, 2018 is drawing to a close and from a meteorological point of view it was an astonishing year with multiple waves of Arctic blast from the "Beast in the East", to the stunning prolonged hot weather on June/July which reminded many of the "summer of '76" with endless sunshine, drought and the occasional wildfires. Of course the weather has an impact on health and demands on A&E departments and subsequently all healthcare scientific services increased as a result of these extreme weather conditions – a pattern that is apparently set to continue for decades to come as a result of global warming and climate change.
In some ways the weather can act as an analogy for how the Academy runs, with (winter) periods of tough negotiation, resistance and impasse on a variety of issues , only for things to melt into "summers" of agreement, cooperation and engagement as we set course on our long cycle of developing a One Voice for all healthcare science. Our "climate" has changed in the last seven years as we have established more and more agreement on operating as an overarching voice for the big issues and send out unified messages of interest to us all as healthcare scientists.
But external forces beyond our control are producing "tempests and tornadoes" that will threaten the very soul of healthcare science in our country – from Brexit, international political change, and global trade wars to innovation, demographics and UK political polarisation. Healthcare science, together with our other healthcare colleagues will have to weather many turbulent storms that threaten the services we strive to deliver to our patients.  We need to look ahead and shy away from being protective and resistant to change, but to use our innate innovative and logical skills to improve patient pathways and healthcare delivery often within the same space and financial footprint. If there is one indelible fingerprint that typifies British healthcare science in the last 2 centuries, it is our excellence and translation of the basic research and scientific skills into new diagnostics, treatments and technologies.
UK healthcare science is a world-beater in genomics, advanced imaging, bioinformatics and new physiological techniques, not to mention giant leaps in life science diagnostics, personalised medicine and new inventions.  All these advances will stand us in good stead as we have to (probably) stand alone off the shores of Europe, should the seemingly inevitable folly of Brexit come to fruition.  The threat to our workforce (recruitment, attracting EU researchers, training opportunities), working towards common standards (European working groups, equipment standards, collaborative professional working) will all become more difficult , because travel, legally binding contracts and a whole plethora of legislation will damage the last four decades of cooperation and collaboration.
Hopefully, through the strong scientific bonds across Europe and beyond our scientific professions will continue to influence and produce changes for the good despite the "new temperature" that Brexit will generate across the continent.  There is no doubt that out of adversity, opportunity can and will evolve but it is up to us as a collective of healthcare science to work together and share our experience and expertise across professional bodies and prepare to exploit these chances for the good of us all but especially for our patients.
This Christmas/New Year will (probably) be our last winter in the Europe we have known for decades, but we need to reflect on how we as healthcare science professionals  can continue to shape our professions, working across borders, sharing across professional boundaries and at all times exploring how we can work together in One Voice.
I would like to thank all the professional bodies who have supported, sometimes challenged but always strived for the same goals for the Academy One Voice in 2018.  It has been an enormous pleasure to work with you and learn from you.  I hope all healthcare scientists ( a term which I believe embraces all people who work in scientific services in health) have a relaxing and peaceful holiday period and get a chance to "recharge the batteries", reflect on a busy year and think about what you want to achieve in the New Year ahead.
Brendan Cooper
President, AHCS