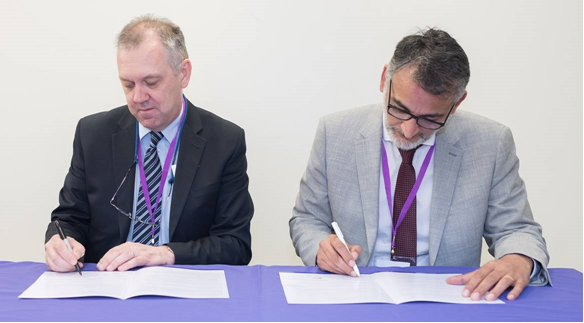 The Academy's President, Prof. Brendan Cooper and Sarb Bajwa, the new Chief Executive of the British Psychological Society sign a Memorandum of Cooperation between the two organisations at its Annual Conference in Nottingham
Under the terms of the memorandum the two organisations will form a strategic alliance to influence policymakers. They will work together to:
exchange knowledge and achieve mutual recognition of modernising psychological and scientific careers
identify areas of joint career and professional development opportunities
develop reciprocal access arrangements
speak with a united voice on items of mutual interest.
This agreement will be refreshed annually to reflect the most up-to-date areas of common interest.
Prof. Brendan Cooper said "As clinical scientists and psychologists we have more that unites us than divides us.  We train in the scientific method, we deliver patient care to the highest evidence based standards and we uphold the highest levels of professionalism and competence for the sake of patients/clients. United on key issues we can deliver two strong voices in harmony – music to the ears in this era of healthcare change."
Sarb Bajwa added: "I am delighted to sign this memorandum on behalf of the Society. We share the AHCS's vision of scientific research as fundamental to the health and care system. We are looking forward to working together to raise the profile of psychology and other sciences in healthcare so that they inform and influence stakeholders right across the UK health and social care systems."
Click here to read more about the British Psychological Society